Job Hunting in Australia
The 2018 Australian Job Facts
Are you looking for a job in Australia? Then it is important to know what the current trends are that the Australian labour market is experiencing. Have a look at the useful tables of content, websites and links.
For the past six years, I have assisted my clients in their job searching. My role has mainly been to help them tweak their LinkedIn profiles to get it ready for the Australian job market. For the past few years, Jobs and especially How to land a job in Australia, has been the focus of my existence.
During this time I have seen first hand how important it is to ensure that you and your skills meet the changing markets.
The following excerpt is published with consent from the relevant parties and is, I believe, valuable for those of you looking for a job in Australia.
It is quite a long read, but as I said, quite valuable.
A special thank you to Mr Ian Goodenough MP for his OK to publish this article, which is based on a report issued by the Department of Jobs and Small Business.
Recent labour market developments (to January 2018)
Labour market conditions have strengthened considerably over the year, with employment increasing by a robust 403,300 (or 3.3%), more than double the decade annual average rate of 1.6%. The increase in employment was due, predominantly, to a rise in full-time employment, up by 293,200 (or 3.6%) to 8,460,900 in January 2018, while part-time employment increased by 110,100 (or 2.8%) to 3,992,600. The unemployment rate fell from 5.7% in January 2017 to 5.5% in January 2018, while the participation rate rose by 1.0 percentage point to 65.6%, as stronger labour market conditions encouraged more people to enter the labour market.
Youth labour market
Young people have benefited from the improvement in labour market conditions, with youth employment increasing strongly, up by 43,800 (or 2.4%) over the year to 1,891,000 in January 2018. Encouragingly, the rise in employment was due to an increase in full-time employment (up by 44,400). Against the stronger background, the youth unemployment rate fell by 0.1 percentage points over the year to 12.3% in January 2018, although it remains more than double the rate recorded for all persons. Despite these improvements, many young people are continuing to encounter difficulties when trying to secure work, and are facing longer spells of unemployment, with the burden of long–term unemployment (LTU) being disproportionately felt by youth.
Young people now comprise 26.6% of the LTU pool, compared with the 22.6% recorded in September 2008. That said, 53.2% of youth were participating in full-time education in January 2018, well above the 47.2% recorded in September 2008, which is encouraging given that higher levels of educational attainment significantly improve labour market prospects
There has also been an increase in the proportion of graduates who are employed in an occupation that is not commensurate with their level of educational attainment. This suggests that graduates are 'pushing down' into lower skill level occupations where they are competing with people with far fewer or no qualifications, such as the long–term unemployed and unskilled young people.
Which industries have gained or lost jobs?
Over the five years to November 2017, about 1.2 million new jobs were created across 14 industries (although these were partly offset by job losses in others).
The largest numbers of new jobs were created in
• Health Care and Social Assistance (up by 301,600)
• Construction (188,800)
• Education and Training (126,500).
Five industries recorded employment falls (although some subsectors within these industries had jobs growth). The largest losses were in • Manufacturing (down by 58,800) • Mining (52,900) • Wholesale Trade (50,900)
Which industries employ young people?
Young workers (15 to 24 years) are employed in all industries, although some offer more opportunities than others.
Industries with large numbers of young workers include • Retail Trade (around 386,000) • Accommodation and Food Services (385,000) • Construction (175,000).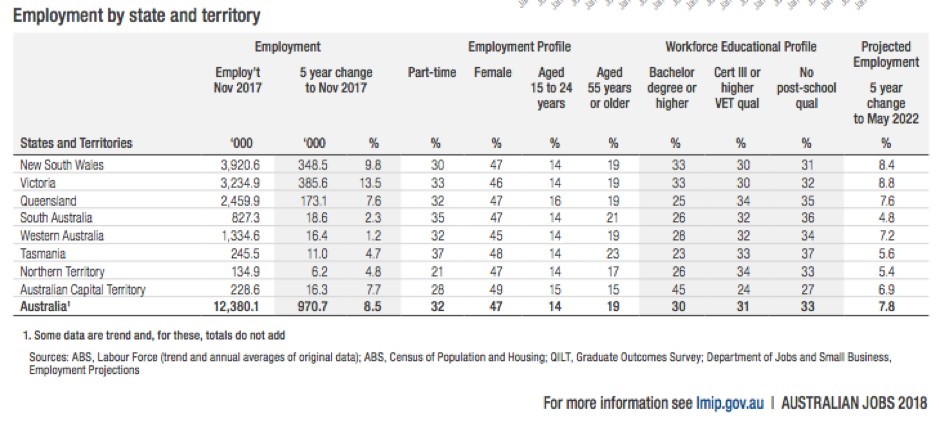 The changing world of work and recruitment
By contrast to the decline of routine work, non-routine employment in Australia has steadily grown. These occupations (such as Chefs, Teachers, and Software and Application Programmers) are less susceptible to automation because they often require creativity, complex thinking, managerial experience or a human presence.
There are limits to what we can automate
While it is feasible to automate a job or task, it does not mean it will be automated. Sometimes the cost of doing so, relative to wages, may be prohibitive. Jobs that remain difficult and costly to automate include those involving social interaction (such as Aged and Disabled Carers) or creative intelligence (such as Architect), and occupations that are highly unpredictable (such as Plumbers and Gardeners).
What does this mean for job seekers?
Over the course of your working life, you are likely to have several careers across a range of occupations. Employers have an increasing focus on transferable skills which enable workers to adapt to changing workforce demands. Job seekers who can show they have these skills, in addition to role-specific expertise, will have an advantage in recruitment processes. These skills include digital literacy, critical thinking, creativity, problem solving and presentation skills. Aptitudes such as adaptability, resilience and entrepreneurial skills will also be important.
It is important to understand the recruitment processes in your occupation and you may need to adapt your job search techniques accordingly. Many employers now use technology to research candidates online, conduct video interviews, or simulate work environments, so make sure your online profile is positive.
Which industries will have the most new jobs over the next five years?
Employment is projected to rise in 16 of the 19 industries over the five years to May 2022. The strong growth in Health Care and Social Assistance in recent years is projected to continue, with this industry projected to add significantly more jobs than any other industry (up by 250,500).
Large contributions to employment growth are also projected for Professional, Scientific and Technical Services (126,400), Construction (120,700), Education and Training (116,200) and Accommodation and Food Services (97,600).
The industries which are projected to grow most strongly (in percentage terms) are Health Care and Social Assistance (up by 16.1%), Professional, Scientific and Technical Services (12.5%) and Education and Training (12.0%)
Occupation outlook
The ten occupations which are projected to add the largest numbers of new jobs over the five years to May 2022 are
• Aged and Disabled Carers (up by 77,400)
• Registered Nurses (65,300)
• Child Carers (25,800)
• General Sales Assistants (24,900)
• General Clerks (22,200)
• Education Aides (21,900)
• Truck Drivers (16,200)
• Software and Applications Programmers (15,100)
• Advertising, Public Relations and Sales Managers (14,800)
• General Practitioners and Resident Medical Officers (14,500).
Growth in these occupations will provide opportunities for young people aged 15 to 24 years, particularly the new jobs projected for General Sales Assistants, with this occupation currently providing the largest number of jobs for young people. Which occupations will decline over the next five years? None of the broad occupation groups is projected to record a decrease in employment over the five years to May 2022, and just seven occupation subgroups are projected to record employment falls.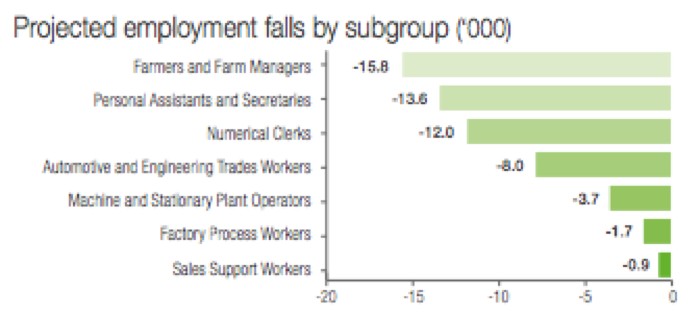 Are post-school qualifications required to work in a growing occupation?
The large majority of jobs growth projected over the five years to May 2022 are in the more highly skilled occupation groups (Managers, Professionals, Technicians and Trades Workers and Community and Personal Service Workers). Jobs in these groups often require post-school qualifications attained through Vocational Educational and Training (see pages 33 and 34) or higher education (page 35). Post-school qualifications are generally beneficial in terms of getting a job, although there will continue to be opportunities for those who have not completed post-school study.
Finding a job
Employers who have difficulty recruiting for lower skilled positions commonly report that job seekers
• lack the experience required to do the job
• have inadequate employability skills or are poorly presented
• do not have the necessary training, licences or qualifications
• are unable to put together an application that is well set out, free of spelling and grammatical mistakes, and tailored to the job.
*What are employability skills?
Employability skills, or soft skills, cover a broad range of personal attributes and transferable skills that are very important to employers. The employability skill that employers consider to be most essential is 'people skills', in particular, how we engage with others. Research by the Department of Jobs and Small Business has found that around 70% of employers place at least as much emphasis, if not more, on employability skills than they do on technical skills.
Are employability skills or technical skills most important to employers?
Both equally important 30%
Technical skills 28%
Employability skills 41%
Applicants who do not have the employability skills that an employer requires will often be rejected, even if they have relevant qualifications, so even the most highly qualified applicants need to be able to demonstrate their employability skills. Job seekers who do not have post-school qualifications, including young job seekers, really need to demonstrate their employability skills to employers, including that they have a positive attitude and are prepared for the demands of the workplace.
While employers consider a range of employability skills to be important, they may place greater emphasis on some skills over others.
For example, employers seeking to fill positions in lower skilled occupations particularly value
• reliability
• motivation
• hard work
• good personal presentation.
Employers seeking to fill more highly skilled occupations also seek
• good communication and teamwork skills
• caring and empathetic individuals
• good organisational skills
The value of workplace experience
One of the most difficult challenges that even the most highly educated person can face is breaking into the labour market with little or no work experience. Roughly two thirds of all vacancies require some level of experience. Even in cases where experience is not essential, many employers will often select an applicant with previous work experience over an applicant who has none. Inexperienced job seekers should be receptive to a broad range of employment prospects and should take advantage of all available opportunities to gain experience, including volunteer work, internships, work experience placements, and apprenticeships. These opportunities, even if not directly related to a job seeker's career goals, can help develop employability skills and provide much needed references. They can be valuable stepping stones to an entry–level role that leads to better opportunities in the future.
How do employers recruit?
Employers use a wide range of recruitment methods to fill their vacancies. The most common recruitment methods used by employers in the 2016–17 financial year (latest data available) are shown in the graph below.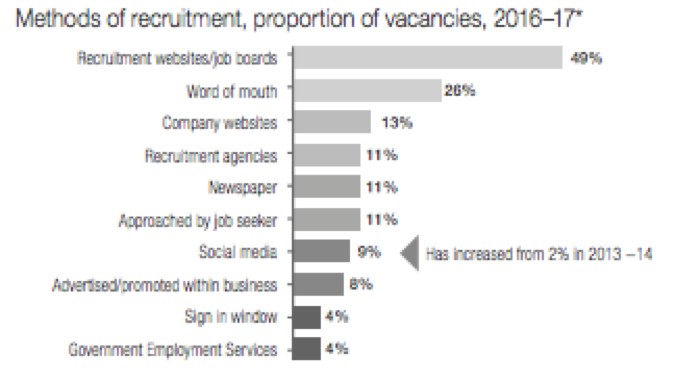 Are there ways for job seekers to stand out?
Getting a job in some occupations or areas can be very competitive and it can be difficult to stand out from the crowd.
Here are some tips to help you to stand out from other applicants.
• Act early. Some employers hire the first applicant who meets their criteria.
• Further education and training helps you to get the skills and qualifications for jobs that interest you.
 • If you already have qualifications, you may need to consider broadening and diversifying your skill set. Apart from providing additional skills and qualifications, training demonstrates a commitment to a particular career direction.
• Experience is valuable as it can demonstrate you already have the skills for the job, and that you are committed to work.
• Demonstrate your employability skills at all stages of the recruitment process. Being on time, speaking clearly and noting the importance of teamwork at interviews are examples of ways to show your skills.
Things to keep in mind when applying for a job
It can be difficult when applying for a job to know how to tailor your application or prepare for an interview. Many job seekers underestimate the importance of their application and presentation at the interview, which is usually an employer's first impression of you.
Keep in mind the following tips
 • Pay attention to detail in your job applications and résumé, particularly to spelling and grammar.
 • Ensure your résumé is up–to–date and highlights your transferable skills but is not too long (up to three pages).
 • Tailor your application and résumé to the position for which you are applying. If unsure, research the business and/or industry to demonstrate that you have an interest in the job and understand what is required.
• Approach employers directly and follow up on your application. This is your opportunity to make a good first impression and to demonstrate an understanding of the job.
 • Make sure you are wearing appropriate clothes and have a tidy appearance when you attend interviews. If you're not sure what to wear, do some research or visit the business before your interview to see what current workers are wearing.
USEFUL WEBSITES AND LINKS
There is a wide range of Government assistance available to help you find the right job, gain skills through tertiary education and training, get workplace experience and understand your rights at work. The information below is summary in nature and cannot fully explain the large number of available policies and programs, but more information is available on the Department of Jobs and Small Business website jobs.gov.au or you can call the National Customer Service Line on 1800 805 260.
There is also more detailed information which allows you to further explore the Australian labour market. Some useful links are provided below.
Help finding a job or choosing a career
Jobactive – jobactive.gov.au
jobactive is the Australian Government's free service that connects job seekers with employers. This service is delivered by a network of jobactive providers across Australia. Anyone looking for work can use the jobactive site to find and apply for jobs, keep track of job searches, create a personal profile and get job alerts.
The jobactive website will help you to find out more about jobactive and to find your local provider. Job seekers can also call the Employment Services Information Line on 13 62 68.
jobactive can provide tailored help based on your assessed needs. Services for job seekers from jobactive providers include
 • help to look for work, write a résumé and prepare for interviews • referrals to jobs in the local area and help to relocate for work • help to become job ready, including targeted training • individualised support (called case management) to take up a job and keep a job • connecting you to a range of government initiatives for which you may be eligible.
Youth Jobs PaTH – jobactive.gov.au/path
An Australian Government program designed to support young people to gain the skills and work experience they need to get and keep a job. It also supports employers to host internship placements and provides them with incentives when they take on a young person. Youth Jobs PaTH has three elements: Prepare – Trial – Hire.
Job Jumpstart – jobjumpstart.gov.au
The Job Jumpstart website is a one–stop–shop for practical, independent and free employment planning advice. The website offers information and resources for young people, to help them • learn about the different ways to contact employers about jobs • find out about the jobs and industries that might suit them • understand how to develop their skills and build their experience • learn how to make their job application stand out • adjust to the workforce and understand their workplace rights and responsibilities.
Job Outlook – joboutlook.gov.au
Job Outlook is a highly regarded website that can help you make decisions about study and training, getting your first job, or the next step in your career. It provides information about Australian careers, labour market trends and employment projections. This website provides more detailed statistical information for each of the occupations included in the Australian Jobs Occupation Matrix.
What's Next? – whatsnext.jobs.gov.au
The What's Next? website provides a range of online resources to help workers facing retrenchment to manage the transition to their next job as quickly as possible.
Your rights at work
Fair Work Ombudsman
fairwork.gov.au A point of contact for advice and help on workplace rights and responsibilities, including pay and conditions. Go to the website or call 13 13 94.
Fair Entitlements Guarantee
jobs.gov.au/feg The Australian Government provides financial assistance to cover certain unpaid employment entitlements to eligible employees who have lost their job due to the liquidation or bankruptcy of their employer. Phone 1300 135 040
Information about tertiary education and training
Australian Apprenticeships australianapprenticeships.gov.au
Provides information on apprenticeships and traineeships, including factsheets and links. Australian Apprenticeships Pathways aajobpathways.com.au Provides a range of Australian Apprenticeships information and resources.
AusAppPathways – ausapp.com.au
An app to help people explore Australian Apprenticeship career pathway ideas. Quality Indicators for Learning and Teaching qilt.edu.au Provides information about Australian universities, including study experiences and employment outcomes.
myskills – myskills.gov.au
An online database of Vocational Education and Training options, including information about providers, courses, outcomes and fees. training.gov.au
Information on training packages, qualifications, courses, units of competency and Registered Training Organisations (RTOs).
National Centre for Vocational Education Research – ncver.edu.au
Provides research and statistics about Vocational Education and Training and the links between education and the labour market.
myfuture – myfuture.edu.au
An online career exploration service which includes information on a range of career–related topics.
Understanding the labour market
Labour Market Information Portal – lmip.gov.au
The Department of Jobs and Small Business' Labour Market Information Portal (LMIP) brings together data from a range of official sources to help you understand your local labour market.
Labour Market Research and Analysis
jobs.gov.au/employment-research-and-statistics
jobs.gov.au/recruitment-conditions
Presents reports prepared by the Department of Jobs and Small Business about skill shortages and information on a range of labour market issues.
© Commonwealth of Australia 2018
This article is based on information from the Australian Jobs 2018 report from the Australian Government, Department of Jobs and Small Business. 
The complete report can be found at https://docs.jobs.gov.au/documents/australian-jobs-publication and by clicking through to https://docs.jobs.gov.au/system/files/doc/other/australianjobs2018.pdf
Inquiries about Australian Jobs should be directed to australianjobs@jobs.gov.au.
The contents of Australian Jobs 2018 are based on information available at the time of publication. Over time, the reliability of the data and analysis may diminish. The Commonwealth, its officers, employees and agents do not accept responsibility for any inaccuracies contained in the report or for any negligence in the compilation of the report and disclaim liability for any loss suffered by any person arising from the use of this report. Labour market information must be used cautiously as employment prospects can change over time and vary by region. It is important in making and assessing career choices to consider all factors, including interest and aptitudes, remuneration and expectations, and the requirements of occupations