5 Reasons why school leavers should have a LinkedIn profile
"Mum can you do a LinkedIn Profile for me asap, I need to apply for a job at Woolies!" the sweetest words this Mum could hear from her 17-year-old. Two good reasons why I loved hearing those words > 1 – You have a higher purpose > Nr 2 – Your teen actually knows what you do. This came totally out of the blue. It seems that teenagers also understand the importance between LinkedIn and landing a job!
Sixteen is the minimum age to have a LinkedIn account. There are over 40 million students and college graduates on LinkedIn. Unfortunately, only 13% of Millennials those who are aged between 15 and 34 years of age, use Linkedin.
Why do I think school leavers should have a LinkedIn profile?
Creating a LinkedIn profile already during your senior years at high school will make it easy to remember and record all those awards, courses and certifications which you earned during that time.
LinkedIn is a valuable social media network for teenagers to connect with possible employers for work experience and vacation work opportunities. It would also be a good time to connect with your fellow schoolmates. In years to come, your schoolmates might prove to be valuable connections, when you are looking for a job or project.
The information available on LinkedIn, and with access to the LinkedIn Learning Hub, would be a valuable resource for assignments and to "find out how things really work".
With access to a diverse network of connections, represented by a variety of industries and types of jobs, valuable information may be gleaned to assist a school leaver's choice of future possible occupations.
One of the best reasons for me would be the relatively safe and sound environment that LinkedIn has been to me, thus far. I would be very happy for my teens to rather spend their time here on LinkedIn, than anywhere else online.
We all want to set our children up for success in life
What better way than to assist them in creating a LinkedIn profile which your teen can build on for as long as they need to earn an income. An intangible asset. Time well spent, which will pay dividends in years to come.
…..To get back to that most welcome request to assist with a LinkedIn profile, have a look and send a connection request to Kyla Botha.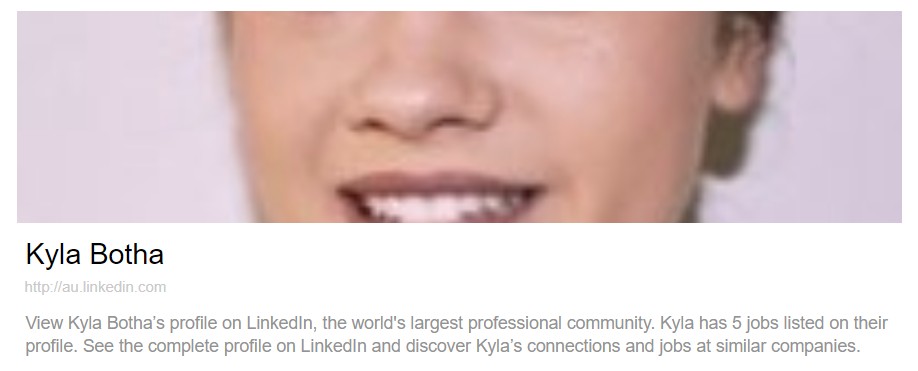 I also welcome you to connect with me on LinkedIn and follow my regular updates here on LinkedIn and Facebook. Contact me should you need assistance in setting up your LinkedIn profile. Send me a LinkedIn message or find my contact details here.
It is easy to make a booking with me for a personal Linkedin coaching session, by choosing a suitable time here.
#vacationjob #teenagersonLinkedIn #schoolleavers #graduates #Australia #LinkedInProfiles